TATA Sky Channel List with Number and Price 2023 | TATA Play Channel Number
Are you a proud owner of a TATA Sky DTH connection, or are you considering subscribing to this renowned service provider? In either case, you've come to the right place. Welcome to your one-stop guide for all things TATA Sky, specifically tailored for our fellow customers who are keen to discover the channels that cater to their unique interests.
TATA Sky has long been a household name in India, synonymous with high-quality Direct-to-Home (DTH) television services. With its widespread reach and a plethora of channel options to choose from, TATA Sky has become the preferred choice for millions of households across the nation. But in a sea of entertainment choices, finding the channels that resonate with your preferences can sometimes feel like searching for a needle in a haystack.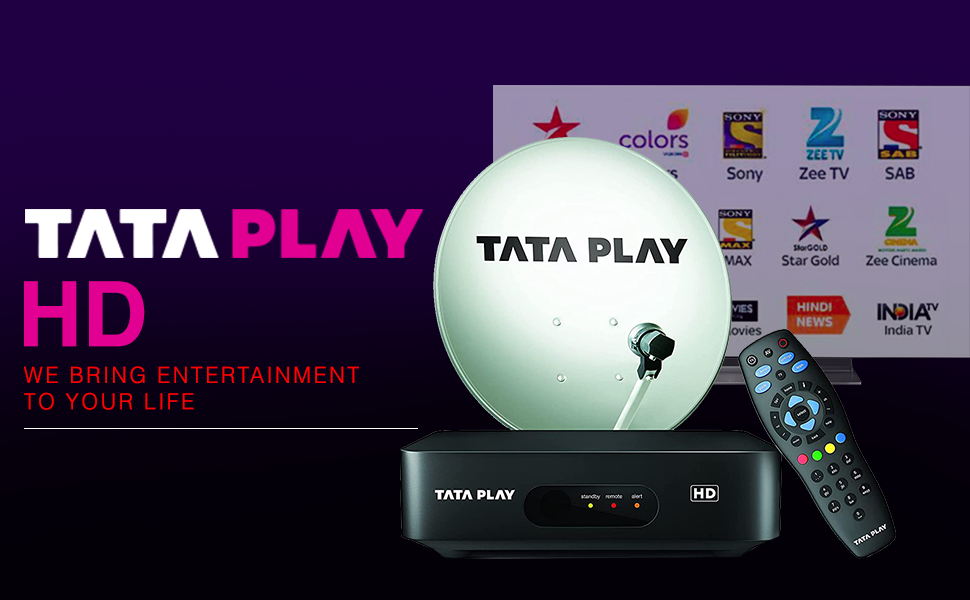 That's where we come in. In this comprehensive blog post, we're not only going to provide you with a detailed TATA Sky channel list but also equip you with the channel numbers and prices, making it a breeze to find and enjoy your favorite shows, movies, and content. Whether you're a sports enthusiast, a news junkie, a movie buff, or someone who treasures regional and specialty channels, our aim is to make your television-watching experience more convenient and enjoyable.
So, sit back, relax, and let's embark on a journey through the world of TATA Sky channels. But before we dive into the channel list, let's begin with an introduction to TATA Sky itself, explore the various types of plans it offers, and discover how you can make the most of your subscription. Ready to explore the vast realm of entertainment that TATA Sky has to offer? Let's get started!
TATA Sky Channel List: Find Your Favorites with Channel Numbers and Prices
Tamil Regional
| Channel Name | Channel No | Price |
| --- | --- | --- |
| Angel TV | 1591 | ₹0.00 |
| DD Podhigai | 1578 | ₹0.00 |
| Jaya Plus | 1558 | ₹0.59 |
| Jothi TV | 1587 | ₹0.00 |
| Madha TV | 1590 | ₹0.00 |
| Makkal TV | 1533 | ₹0.00 |
| Malaimurasu Seithigal | 1566 | ₹0.00 |
| Nambikkai TV | 1592 | ₹0.00 |
| News 7 Tamil | 1560 | ₹0.00 |
| News J | 1568 | ₹0.00 |
| News Tamil 24×7 | 1569 | ₹0.00 |
| News18 Tamil Nadu | 1562 | ₹0.12 |
| Peppers TV | 1534 | ₹0.00 |
| Polimer News | 1561 | ₹0.00 |
| Polimer TV | 1532 | ₹0.00 |
| Puthiya Thalaimurai | 1556 | ₹0.00 |
| Raj News Tamil | 1564 | ₹0.33 |
| SVBC 2 | 1599 | ₹0.00 |
| Sathiyam TV | 1565 | ₹0.00 |
| Thanthi TV | 1557 | ₹0.00 |
| Vasanth TV | 1530 | ₹0.00 |
| Vendhar TV | 1536 | ₹0.00 |
| Mega 24 | 1524 | ₹1.18 |
| Raj Digital Plus | 1522 | ₹1.89 |
| Raj Musix | 1582 | ₹1.65 |
| Seithigal TV | 1563 | ₹1.18 |
| Sun News | 1559 | ₹1.18 |
| TravelXP Tamil | 1553 | ₹1.77 |
| Vijay Takkar | 1583 | ₹1.18 |
| J Movies | 1544 | ₹2.66 |
| Jaya Max | 1581 | ₹2.66 |
| Mega Musiq | 1586 | ₹2.36 |
| Colors Tamil | 1515 | ₹3.54 |
| Mega TV | 1523 | ₹3.54 |
| D Tamil | 1521 | ₹4.13 |
| Isaiaruvi | 1584 | ₹4.72 |
| Raj TV | 1520 | ₹4.72 |
| Jaya TV HD | 1517 | ₹7.08 |
| Sun Music | 1580 | ₹7.08 |
| Colors Tamil HD | 1514 | ₹8.26 |
| Sirippoli | 1531 | ₹9.44 |
| Vijay Super | 1513 | ₹9.44 |
| Adithya TV | 1543 | ₹10.62 |
| Sun Life | 1506 | ₹10.62 |
| Zee Thirai | 1546 | ₹11.80 |
| Kalaignar TV | 1518 | ₹14.16 |
| Murasu TV | 1585 | ₹14.16 |
| Sony Sports Ten 4 | 1552 | ₹20.06 |
| KTV | 1541 | ₹22.42 |
| KTV HD | 1540 | ₹22.42 |
| Star Vijay | 1508 | ₹22.42 |
| Star Sports 1 Tamil HD | 1550 | ₹22.42 |
| Star Sports 1 Tamil | 1551 | ₹22.42 |
| Star Vijay HD | 1507 | ₹22.42 |
| Sun Music HD | 1579 | ₹22.42 |
| Sun TV | 1504 | ₹22.42 |
| Sun TV HD | 1503 | ₹22.42 |
| Zee Tamil HD | 1510 | ₹22.42 |
| Zee Tamil | 1511 | ₹22.42 |
Telugu Regional
| Channel Name | Channel No | Price |
| --- | --- | --- |
| Channel Name | Channel No | Price |
| 10 TV | 1467 | ₹0.00 |
| ABN Andhra Jyothy | 1461 | ₹0.00 |
| Aradana TV | 1492 | ₹0.00 |
| BIG TV | 1472 | ₹0.00 |
| Bhakti TV | 1490 | ₹0.00 |
| DD Saptagiri | 1481 | ₹0.00 |
| DD Yadagiri | 1482 | ₹0.00 |
| Swara Sagar | 1493 | ₹0.00 |
| HM TV | 1465 | ₹0.00 |
| Hindu Dharmam | 1494 | ₹0.00 |
| NTV Telugu | 1460 | ₹0.00 |
| News 360 | 1473 | ₹0.00 |
| Prime 9 | 1471 | ₹0.00 |
| Raj Musix Telugu | 1487 | ₹0.00 |
| Raj News Telugu | 1466 | ₹0.00 |
| SVBC | 1499 | ₹0.00 |
| Sakshi TV | 1456 | ₹0.00 |
| Studio Yuva | 1423 | ₹0.00 |
| Subhavaartha TV | 1491 | ₹0.00 |
| Swatantra TV | 1468 | ₹0.00 |
| T News | 1462 | ₹0.00 |
| TV5 News | 1458 | ₹0.00 |
| TV9 Telugu | 1459 | ₹0.00 |
| V6 News | 1463 | ₹0.00 |
| Vissa | 1422 | ₹0.00 |
| ETV Andhra Pradesh | 1457 | ₹2.36 |
| ETV Life | 1451 | ₹2.36 |
| ETV Telengana | 1464 | ₹2.36 |
| ETV Abhiruchi | 1453 | ₹3.54 |
| Gemini Music | 1484 | ₹4.72 |
| Star Maa Music | 1486 | ₹4.72 |
| Gemini Comedy | 1442 | ₹5.90 |
| Gemini Life | 1415 | ₹5.90 |
| Star Maa Gold | 1435 | ₹8.26 |
| Zee Cinemalu | 1438 | ₹11.80 |
| ETV Plus | 1417 | ₹12.98 |
| ETV Cinema | 1440 | ₹15.34 |
| Zee Cinemalu HD | 1437 | ₹18.88 |
| Gemini Movies | 1431 | ₹20.06 |
| ETV HD | 1411 | ₹22.42 |
| ETV Telugu | 1412 | ₹22.42 |
| Gemini Movies HD | 1430 | ₹22.42 |
| Gemini TV | 1406 | ₹22.42 |
| Gemini TV HD | 1405 | ₹22.42 |
| Star Maa | 1409 | ₹22.42 |
| Star Maa Movies | 1433 | ₹22.42 |
| Star Maa Movies HD | 1432 | ₹22.42 |
| Star Sports 1 Telugu | 1446 | ₹22.42 |
| Star Sports 1 Telugu HD | 1445 | ₹22.42 |
| Zee Telugu HD | 1403 | ₹22.42 |
| Zee Telugu | 1404 | ₹22.42 |
| Star Maa HD | 1408 | ₹24.78 |
Hindi Regional
| Channel Name | Channel No | Price |
| --- | --- | --- |
| Anaadi TV | 1170 | ₹0.00 |
| Aryan TV | 1173 | ₹0.00 |
| Asian News | 1174 | ₹0.00 |
| B4U Bhojpuri | 1120 | ₹0.00 |
| Bansal News | 1162 | ₹0.00 |
| Bhojpuri Cinema | 1119 | ₹0.00 |
| DD Bharati | 1152 | ₹0.00 |
| DD Bihar | 1154 | ₹0.00 |
| DD Madhya Pradesh | 1175 | ₹0.00 |
| DD Rajasthan | 1190 | ₹0.00 |
| DD Urdu | 1199 | ₹0.00 |
| DD Uttar Pradesh | 1153 | ₹0.00 |
| Filamchi Bhojpuri | 1114 | ₹0.30 |
| First India Rajasthan | 1182 | ₹0.00 |
| Gulistan News | 1194 | ₹0.00 |
| IBC 24 | 1161 | ₹0.00 |
| India News MP CH | 1164 | ₹0.00 |
| India News Rajasthan | 1183 | ₹0.00 |
| India News UP UK | 1136 | ₹0.00 |
| Jan TV | 1185 | ₹0.00 |
| Kashish News | 1139 | ₹0.00 |
| MH One Dil Se | 1104 | ₹0.00 |
| News State UP Uttarakhand | 1137 | ₹0.00 |
| News 24 MP CH | 1169 | ₹0.00 |
| News Hour | 1171 | ₹0.00 |
| News State Bihar/Jharkhand | 1131 | ₹0.00 |
| News State MP CG | 1165 | ₹0.00 |
| News18 Bihar Jharkhand | 1129 | ₹0.12 |
| News18 Jammu Kashmir Ladakh Himachal | 1191 | ₹0.12 |
| News18 Madhya Pradesh Chhattisgarh | 1155 | ₹0.12 |
| News18 Rajasthan | 1176 | ₹0.12 |
| News18 Uttar Pradesh Uttarakhand | 1125 | ₹0.12 |
| Oscar Movies Bhojpuri | 1118 | ₹0.00 |
| Pasand | 1122 | ₹0.00 |
| Patrika TV Rajasthan | 1184 | ₹0.00 |
| Sach Bedhadak | 1186 | ₹0.00 |
| Sadhna News MP CG | 1168 | ₹0.00 |
| Sadhna Plus News | 1138 | ₹0.00 |
| Sahara Samay UP | 1140 | ₹0.00 |
| Swaraj Express SMBC | 1166 | ₹0.00 |
| Tv27 News | 1172 | ₹0.00 |
| Channel WIN | 1193 | ₹0.00 |
| Zee Bihar Jharkhand | 1130 | ₹0.12 |
| Zee Biskope | 1113 | ₹0.12 |
| Zee Ganga | 1102 | ₹0.59 |
| Zee Madhya Pradesh Chattisgarh | 1156 | ₹0.12 |
| Zee Rajasthan News | 1177 | ₹0.12 |
| Zee Salaam | 1192 | ₹0.12 |
| Zee Uttar Pradesh Uttarakhand | 1126 | ₹0.12 |
Hindi News
| Channel Name | Channel No | Price |
| --- | --- | --- |
| ABP News | 504 | ₹0.00 |
| APN News | 542 | ₹0.00 |
| Bharat 24 | 531 | ₹0.00 |
| Bharat Express | 535 | ₹0.00 |
| Bharat Samachar | 559 | ₹0.00 |
| CNBC Awaaz | 592 | ₹0.12 |
| DD News HD | 501 | ₹0.00 |
| DD News | 502 | ₹0.00 |
| Daily Post Punjab Haryana Himachal | 1933 | ₹0.00 |
| Good News Today | 525 | ₹0.30 |
| Har Khabar | 570 | ₹0.00 |
| Hindi Khabar | 557 | ₹0.00 |
| INH 24X7 | 1163 | ₹0.00 |
| India Daily Live | 536 | ₹0.00 |
| India News | 522 | ₹0.47 |
| India TV | 514 | ₹0.00 |
| India Voice | 551 | ₹0.00 |
| Jantantra | 568 | ₹0.00 |
| Khabrain Abhi Tak | 563 | ₹0.00 |
| Lok Sabha TV | 598 | ₹0.00 |
| Network10 | 567 | ₹0.00 |
| News 1 India | 553 | ₹0.00 |
| News 24 | 516 | ₹0.00 |
| News India 24X7 | 530 | ₹0.00 |
| News Nation | 523 | ₹0.00 |
| News11 Bharat | 552 | ₹0.00 |
| News18 India | 519 | ₹0.12 |
| Prime News | 569 | ₹0.00 |
| R Bharat | 521 | ₹0.00 |
| Aaj Tak | 509 | ₹0.89 |
| Samay | 566 | ₹0.00 |
| Sansad TV – Rajya Sabha | 599 | ₹0.00 |
| Sansad TV HD | 597 | ₹0.00 |
| Sudarshan News | 534 | ₹0.00 |
| Surya Samachar | 533 | ₹0.00 |
| TV24 | 1187 | ₹0.00 |
| TV9 Bharatvarsh | 524 | ₹0.00 |
| Times Now Navbharat | 529 | ₹0.00 |
| Total TV | 527 | ₹0.00 |
| Zee Business | 590 | ₹0.12 |
| Zee Hindustan | 520 | ₹0.12 |
| Zee News | 511 | ₹0.12 |
| ET Now Swadesh | 594 | ₹1.18 |
| NDTV India | 506 | ₹1.18 |
| Times Now Navbharat HD | 528 | ₹1.77 |
| Aaj Tak HD | 508 | ₹2.36 |
Malayalam Regional
| Channel Name | Channel No | Price |
| --- | --- | --- |
| Amrita TV | 1817 | ₹0.00 |
| Asianet News | 1841 | ₹0.00 |
| DD Malayalam | 1874 | ₹0.00 |
| God TV | 1886 | ₹0.00 |
| Goodness | 1885 | ₹0.00 |
| Harvest TV 24X7 | 1888 | ₹0.00 |
| Jai Hind TV | 1847 | ₹0.00 |
| Janam TV | 1850 | ₹0.00 |
| Jeevan TV | 1848 | ₹0.00 |
| Kairali News | 1842 | ₹0.00 |
| Kairali TV | 1820 | ₹0.00 |
| Kappa TV | 1878 | ₹0.00 |
| Kaumudy | 1851 | ₹0.00 |
| Manorama News | 1843 | ₹0.00 |
| Mathrubhumi News | 1844 | ₹0.00 |
| Mazhavil Manorama HD | 1818 | ₹0.00 |
| Mazhavil Manorama | 1819 | ₹0.00 |
| Media One TV | 1849 | ₹0.00 |
| Naaptol Malayalam | 1823 | ₹0.00 |
| News18 Kerala | 1846 | ₹0.12 |
| Raj Musix Malayalam | 1877 | ₹0.00 |
| Raj News Malayalam | 1853 | ₹0.00 |
| Reporter TV | 1855 | ₹0.00 |
| SHALOM TV | 1887 | ₹0.00 |
| Safari TV | 1838 | ₹0.00 |
| Twenty four | 1854 | ₹0.00 |
| We TV | 1822 | ₹0.00 |
| Surya Comedy | 1830 | ₹4.72 |
| Surya Music | 1875 | ₹4.72 |
| Asianet Plus | 1809 | ₹8.26 |
| Flowers | 1814 | ₹11.80 |
| Zee Keralam | 1812 | ₹11.80 |
| Zee Keralam HD | 1811 | ₹11.80 |
| Surya Movies | 1826 | ₹12.98 |
| Surya TV | 1803 | ₹14.16 |
| Asianet | 1807 | ₹22.42 |
| Asianet HD | 1806 | ₹22.42 |
| Asianet Movies | 1828 | ₹22.42 |
| Surya TV HD | 1802 | ₹22.42 |
Hindi Movies
| Channel Name | Channel No | Price |
| --- | --- | --- |
| ABZY Movies | 374 | ₹0.00 |
| B4U Kadak | 346 | ₹0.00 |
| B4U Movies | 352 | ₹0.00 |
| Bflix Movies | 367 | ₹0.00 |
| Cinema TV India – Free | 358 | ₹0.00 |
| Colors Cineplex Bollywood | 379 | ₹0.12 |
| Colors Cineplex Superhits | 381 | ₹0.12 |
| Dhamaka Movies B4U | 382 | ₹0.00 |
| Goldmines | 375 | ₹0.00 |
| Manoranjan Grand | 377 | ₹0.00 |
| Manoranjan TV | 376 | ₹0.00 |
| Sony Wah | 351 | ₹0.59 |
| Star Utsav Movies | 369 | ₹0.59 |
| Wow Cinema One | 365 | ₹0.00 |
| Zee Action | 349 | ₹0.12 |
| Zee Anmol Cinema | 371 | ₹0.12 |
| Zee Classic | 328 | ₹0.12 |
| Sony Max 2 | 355 | ₹1.18 |
| Star Gold 2 | 317 | ₹2.36 |
| Star Gold Romance | 323 | ₹2.36 |
| Star Gold Thrills | 325 | ₹2.36 |
| Colors Cineplex | 345 | ₹3.54 |
| Zee Bollywood | 327 | ₹3.54 |
| Star Gold 2 HD | 316 | ₹4.72 |
| Colors Cineplex HD | 344 | ₹5.90 |
| Star Gold Select | 357 | ₹8.26 |
| Star Gold Select HD | 356 | ₹9.44 |
| &pictures | 332 | ₹11.80 |
| Sony Max | 314 | ₹17.70 |
| &pictures HD | 331 | ₹22.42 |
| Sony Max HD | 312 | ₹22.42 |
| Star Gold | 310 | ₹22.42 |
| Zee Cinema | 321 | ₹22.42 |
| Star Gold HD | 308 | ₹22.42 |
| Zee Cinema HD | 319 | ₹22.42 |
Kannada Regional
| Channel Name | Channel No | Price |
| --- | --- | --- |
| Ayush TV | 1686 | ₹0.00 |
| DD Chandana | 1672 | ₹0.00 |
| Dighvijay 24×7 News | 1659 | ₹0.00 |
| Kasthuri | 1650 | ₹0.00 |
| News18 Kannada | 1656 | ₹0.12 |
| News 1st Kannada | 1661 | ₹0.00 |
| Power TV | 1660 | ₹0.00 |
| Prajaa TV | 1663 | ₹0.00 |
| Public Movies | 1639 | ₹0.00 |
| Public Music | 1677 | ₹0.00 |
| Public TV | 1655 | ₹0.00 |
| RAJ MUSIX KANNADA | 1674 | ₹0.00 |
| Raj News Kannada | 1658 | ₹0.00 |
| Sirikannada All Time | 1618 | ₹0.00 |
| Sri Sankara TV | 1685 | ₹0.00 |
| Suvarna News 24×7 | 1654 | ₹0.00 |
| TV5 Kannada | 1657 | ₹0.00 |
| TV9 Kannada | 1653 | ₹0.00 |
| Vistara News | 1662 | ₹0.00 |
| Colors Kannada Cinema | 1632 | ₹3.54 |
| Colors Super | 1615 | ₹3.54 |
| Star Suvarna Plus | 1630 | ₹5.90 |
| Udaya Music | 1673 | ₹5.90 |
| Udaya Comedy | 1628 | ₹7.08 |
| Zee Picchar | 1634 | ₹11.80 |
| Colors Kannada | 1606 | ₹22.42 |
| Colors Kannada HD | 1605 | ₹22.42 |
| Star Sports 1 Kannada | 1645 | ₹22.42 |
| Star Suvarna | 1610 | ₹22.42 |
| Star Suvarna HD | 1609 | ₹22.42 |
| Udaya TV HD | 1603 | ₹22.42 |
| Udaya Movies | 1626 | ₹22.42 |
| Udaya TV | 1604 | ₹22.42 |
| Zee Kannada HD | 1611 | ₹22.42 |
| Zee Kannada | 1612 | ₹22.42 |
Hindi Entertainment
| Channel Name | Channel No | Price |
| --- | --- | --- |
| Anjan TV | 178 | ₹0.00 |
| Atrangii | 184 | ₹0.00 |
| Big Magic | 176 | ₹0.12 |
| Bindass | 153 | ₹0.12 |
| DD Kisan | 198 | ₹0.00 |
| DD National | 114 | ₹0.00 |
| Dangal 2 | 183 | ₹0.00 |
| Dangal | 177 | ₹0.00 |
| STAR Utsav | 171 | ₹0.59 |
| Shemaroo TV | 181 | ₹0.00 |
| Shemaroo UMANG | 184 | ₹0.00 |
| Sony Pal | 174 | ₹0.59 |
| The Q | 175 | ₹0.00 |
| Zee Anmol | 172 | ₹0.12 |
| Colors Rishtey | 173 | ₹1.18 |
| Investigation Discovery | 155 | ₹1.18 |
| Ishara | 182 | ₹5.90 |
| &TV | 139 | ₹7.08 |
| Star Bharat | 122 | ₹14.16 |
| &TV HD | 137 | ₹22.42 |
| Colors HD | 147 | ₹22.42 |
| Colors | 149 | ₹22.42 |
| Sony SAB | 134 | ₹22.42 |
| Star Plus | 117 | ₹22.42 |
| Zee TV | 143 | ₹22.42 |
| Sony SAB HD | 132 | ₹22.42 |
| Sony Entertainment Television | 130 | ₹22.42 |
| Sony Entertainment Television HD | 128 | ₹22.42 |
| Star Bharat HD | 121 | ₹22.42 |
| Star Plus HD | 115 | ₹22.42 |
| Zee TV HD | 141 | ₹22.42 |
Bengali Regional
| Channel Name | Channel No | Price |
| --- | --- | --- |
| Zee 24 Ghanta | 1362 | ₹0.12 |
| ABP Ananda | 1360 | ₹0.00 |
| Aakaash Aath | 1320 | ₹0.00 |
| CTVN AKD Plus | 1369 | ₹0.00 |
| Calcutta News | 1370 | ₹0.00 |
| DD Bangla | 1379 | ₹0.00 |
| Enterr10 Bangla | 1322 | ₹0.00 |
| Khushboo Bangla | 1341 | ₹0.00 |
| Kolkata TV | 1363 | ₹0.00 |
| NKTV Bangla | 1371 | ₹0.00 |
| News Time Bangla | 1368 | ₹0.00 |
| News18 Bangla | 1365 | ₹0.12 |
| Republic Bangla | 1367 | ₹0.00 |
| Ruposhi Bangla | 1321 | ₹0.00 |
| Sangeet Bangla | 1380 | ₹0.00 |
| Sun Bangla | 1317 | ₹0.00 |
| TV9 Bangla | 1366 | ₹0.00 |
| Colors Bangla Cinema | 1331 | ₹1.18 |
| Sony Aath | 1312 | ₹6.49 |
| Colors Bangla | 1303 | ₹8.26 |
| Zee Bangla Cinema | 1329 | ₹11.80 |
| Colors Bangla HD | 1302 | ₹16.52 |
| Jalsha Movies | 1327 | ₹17.70 |
| Jalsha Movies HD | 1326 | ₹22.42 |
| Star Jalsha | 1310 | ₹22.42 |
| Star Jalsha HD | 1309 | ₹22.42 |
| Zee Bangla | 1307 | ₹22.42 |
| Zee Bangla HD | 1306 | ₹22.42 |
Knowledge & Lifestyle
| Channel Name | Channel No | Price |
| --- | --- | --- |
| DD Gyan Darshan | 755 | ₹0.00 |
| Fashion TV | 772 | ₹0.00 |
| Food Food | 768 | ₹0.00 |
| Discovery Science | 719 | ₹1.18 |
| Food XP | 771 | ₹1.77 |
| Fox Life | 754 | ₹1.18 |
| Nat Geo Wild | 712 | ₹1.18 |
| Discovery Turbo | 764 | ₹1.18 |
| Good Times | 762 | ₹1.77 |
| Zee Zest | 770 | ₹1.18 |
| Fox Life HD | 753 | ₹2.36 |
| National Geographic | 709 | ₹2.36 |
| Animal Planet | 717 | ₹2.36 |
| TLC | 760 | ₹2.36 |
| History TV18 | 721 | ₹3.54 |
| Sony BBC Earth | 725 | ₹3.54 |
| TLC HD | 759 | ₹3.54 |
| TravelXP | 766 | ₹3.54 |
| Discovery Channel | 714 | ₹4.72 |
| Animal Planet HD World | 716 | ₹5.90 |
| Epic | 735 | ₹5.90 |
| History TV18 HD | 720 | ₹8.26 |
| Discovery HD World | 713 | ₹9.44 |
| Nat Geo Wild HD | 711 | ₹9.44 |
| TravelXP HD | 765 | ₹10.62 |
| Zee Zest HD | 769 | ₹11.80 |
| National Geographic HD | 708 | ₹16.52 |
| Sony BBC Earth HD | 724 | ₹22.42 |
Others
| Channel Name | Channel No | Price |
| --- | --- | --- |
| DD Arunprabha | 1986 | ₹0.00 |
| DD Kashir | 1989 | ₹0.00 |
| DD Manipur | 1987 | ₹0.00 |
| DD North East | 1988 | ₹0.00 |
| DD Port Blair | 1985 | ₹0.00 |
| DY 365 | 1970 | ₹0.00 |
| Ezmall | 158 | ₹0.00 |
| Indradhanu | 1961 | ₹0.00 |
| Kannada Naaptol – Free | 1617 | ₹0.00 |
| NB NEWS | 1980 | ₹0.00 |
| ND24Newsdaily24in | 1979 | ₹0.00 |
| Nepal 1 | 1951 | ₹0.00 |
| NKTV 24X7 | 1977 | ₹0.00 |
| Naaptol – Free | 156 | ₹0.00 |
| News Live | 1973 | ₹0.00 |
| News18 Assam North East | 1971 | ₹0.12 |
| North East Live | 1976 | ₹0.00 |
| Prag News | 1975 | ₹0.00 |
| Pratham Khabar 24X7 | 1981 | ₹0.00 |
| Protidin Time | 1974 | ₹0.00 |
| Ramdhenu | 1990 | ₹0.00 |
| Rang | 1952 | ₹0.00 |
| Rengoni TV | 1953 | ₹0.00 |
| SPONDON | 1954 | ₹0.00 |
| Tamil Naaptol – Free | 1525 | ₹0.00 |
| Telugu Naaptol – Free | 1419 | ₹0.00 |
Sports
| Channel Name | Channel No | Price |
| --- | --- | --- |
| DD Sports | 453 | ₹0.00 |
| Star Sports First | 497 | ₹0.59 |
| Star Sports 3 | 458 | ₹2.36 |
| 1Sports | 498 | ₹4.72 |
| Eurosport | 496 | ₹4.13 |
| Star Sports 2 | 457 | ₹4.72 |
| Eurosport HD | 495 | ₹6.49 |
| Star Sports Select 2 | 466 | ₹8.26 |
| Sports 18 1 | 488 | ₹9.44 |
| Sports 18 1 HD | 487 | ₹11.80 |
| Star Sports Select 2 HD | 465 | ₹11.80 |
| Sony Sports Ten 2 | 474 | ₹20.06 |
| Sony Sports Ten 3 | 476 | ₹20.06 |
| Sony Sports Ten 1 HD | 470 | ₹22.42 |
| Sony Sports Ten 1 | 471 | ₹22.42 |
| Sony Sports Ten 2 HD | 473 | ₹22.42 |
| Sony Sports Ten 3 HD | 475 | ₹22.42 |
| Sony Sports Ten 5 HD | 483 | ₹22.42 |
| Sony Sports Ten 5 | 484 | ₹22.42 |
| Star Sports 1 HD | 454 | ₹22.42 |
| Star Sports 1 | 455 | ₹22.42 |
| Star Sports 2 HD | 456 | ₹22.42 |
| Star Sports 1 Hindi HD | 459 | ₹22.42 |
| Star Sports 1 Hindi | 460 | ₹22.42 |
| Star Sports Select 1 | 464 | ₹22.42 |
| Star Sports Select 1 HD | 463 | ₹22.42 |
Marathi Regional
| Channel Name | Channel No | Price |
| --- | --- | --- |
| Zee 24 Taas | 1259 | ₹0.12 |
| DD Sahyadri | 1274 | ₹0.00 |
| Fakt Marathi | 1229 | ₹0.00 |
| Jai Maharashtra | 1262 | ₹0.00 |
| Lokshahi | 1265 | ₹0.00 |
| News18 Lokmat | 1257 | ₹0.12 |
| News State Maharashtra Goa | 1266 | ₹0.00 |
| Pudhari News | 1267 | ₹0.00 |
| ABP Majha | 1255 | ₹0.00 |
| Saam TV | 1261 | ₹0.00 |
| Sangeet Marathi | 1277 | ₹0.00 |
| Shemaroo Marathi Bana | 1230 | ₹0.00 |
| Sun Marathi | 1217 | ₹0.00 |
| TV9 Marathi | 1263 | ₹0.00 |
| Zee Yuva | 1211 | ₹1.18 |
| Pravah Pictures | 1228 | ₹2.36 |
| Sony Marathi | 1213 | ₹6.49 |
| Zee Talkies | 1226 | ₹10.62 |
| Colors Marathi | 1202 | ₹11.80 |
| Colors Marathi HD | 1201 | ₹20.06 |
| Star Pravah | 1208 | ₹22.42 |
| Star Pravah HD | 1207 | ₹22.42 |
| Zee Marathi | 1204 | ₹22.42 |
| Zee Marathi HD | 1203 | ₹22.42 |
| Zee Talkies HD | 1225 | ₹22.42 |
English News
| Channel Name | Channel No | Price |
| --- | --- | --- |
| Al Jazeera | 637 | ₹0.00 |
| Australia TV | 642 | ₹0.00 |
| Channel News Asia | 638 | ₹0.00 |
| DD India | 622 | ₹0.00 |
| DW | 641 | ₹0.00 |
| France 24 | 639 | ₹0.00 |
| Mirror Now | 612 | ₹0.59 |
| NHK WORLD-JAPAN | 644 | ₹0.00 |
| Republic TV | 616 | ₹0.00 |
| CNN News18 | 608 | ₹0.59 |
| Russia Today | 643 | ₹0.00 |
| TV5 Monde Asie | 640 | ₹0.00 |
| CNBC TV18 Prime HD | 625 | ₹1.18 |
| NDTV Profit Prime | 623 | ₹1.18 |
| NewsX | 610 | ₹1.18 |
| India Today | 606 | ₹1.77 |
| BBC News | 633 | ₹1.77 |
| WION | 613 | ₹1.18 |
| ET Now | 627 | ₹2.36 |
| CNN | 631 | ₹2.36 |
| Times Now | 604 | ₹2.95 |
| NDTV 24×7 | 601 | ₹3.54 |
| Times Now World HD | 603 | ₹3.54 |
| CNBC TV18 | 626 | ₹4.72 |
Punjabi Regional
| Channel Name | Channel No | Price |
| --- | --- | --- |
| ANB News | 1927 | ₹0.00 |
| Chardikla Time TV | 1945 | ₹0.00 |
| DD Punjabi | 1935 | ₹0.00 |
| India News Haryana | 1924 | ₹0.00 |
| India News Punjab | 1923 | ₹0.00 |
| Janta TV | 1925 | ₹0.00 |
| Khabar Fast | 1930 | ₹0.00 |
| Living India News | 1928 | ₹0.00 |
| MH One | 1907 | ₹0.00 |
| MH One News | 1926 | ₹0.00 |
| News18 Punjab Haryana | 1922 | ₹0.12 |
| PTC Chak De | 1938 | ₹0.00 |
| PTC Gold | 1912 | ₹0.00 |
| PTC Music | 1941 | ₹0.00 |
| PTC News | 1921 | ₹0.00 |
| PTC Punjabi | 1906 | ₹0.00 |
| Pitaara TV | 1911 | ₹0.00 |
| Punjabi Hits | 1942 | ₹0.00 |
| STV Haryana News | 1932 | ₹0.00 |
| Tabbar Hits | 1910 | ₹0.00 |
| WPN World TV Punjabi | 1934 | ₹0.00 |
| Zee Punjab Haryana Himachal Pradesh | 1920 | ₹0.12 |
| Zee Punjabi | 1903 | ₹11.80 |
Spiritual
| Channel Name | Channel No | Price |
| --- | --- | --- |
| Aadinath TV | 1086 | ₹0.00 |
| Aastha Bhajan | 1077 | ₹0.00 |
| Aastha Gujarati | 1743 | ₹0.00 |
| Aastha | 1055 | ₹0.00 |
| Arihant | 1067 | ₹0.00 |
| Awakening | 1084 | ₹0.00 |
| Divya | 1083 | ₹0.00 |
| Ishwar TV | 1068 | ₹0.00 |
| Jinvani Channel | 1066 | ₹0.00 |
| MH One Shraddha | 1061 | ₹0.00 |
| PTC Simran | 1946 | ₹0.00 |
| Paras Gold One | 1059 | ₹0.00 |
| Peace of Mind | 1065 | ₹0.00 |
| SVBC 3 | 1698 | ₹0.00 |
| Sadhna TV | 1063 | ₹0.00 |
| Sanskar | 1057 | ₹0.00 |
| Sanskriti 24×7 | 1087 | ₹0.00 |
| Santwani | 1085 | ₹0.00 |
| Satsang TV | 1073 | ₹0.00 |
| Sharnam TV | 1064 | ₹0.00 |
| Shubh TV | 1074 | ₹0.00 |
| Subharti TV | 1082 | ₹0.00 |
| Vedic | 1078 | ₹0.00 |
Kids
| Channel Name | Channel No | Price |
| --- | --- | --- |
| Nick Jr | 685 | ₹1.18 |
| Hungama TV | 652 | ₹1.18 |
| Sonic Nickelodeon | 674 | ₹2.36 |
| CBeeBies | 687 | ₹3.54 |
| Gubbare | 678 | ₹3.54 |
| Sony Yay | 676 | ₹3.54 |
| Discovery Kids | 672 | ₹4.13 |
| Disney Junior | 686 | ₹4.72 |
| ETV Bal Bharat | 680 | ₹4.72 |
| Kushi TV | 692 | ₹4.72 |
| Super Hungama | 655 | ₹4.72 |
| Chintu TV | 694 | ₹5.90 |
| Kochu TV | 695 | ₹5.90 |
| Cartoon Network | 667 | ₹5.02 |
| Pogo | 670 | ₹5.02 |
| Cartoon Network HD+ | 666 | ₹7.08 |
| Chutti TV | 693 | ₹7.08 |
| Nick | 663 | ₹7.08 |
| Nick HD+ | 662 | ₹11.80 |
| Disney | 658 | ₹11.80 |
| Disney Channel HD | 657 | ₹14.16 |
Odia Regional
| Channel Name | Channel No | Price |
| --- | --- | --- |
| Argus News | 1780 | ₹0.00 |
| DD Odia | 1785 | ₹0.00 |
| Kalinga TV | 1777 | ₹0.00 |
| Kanak News | 1774 | ₹0.00 |
| Nandighosha TV | 1779 | ₹0.00 |
| News18 Odia | 1776 | ₹0.12 |
| OTV | 1771 | ₹0.00 |
| Prameya News 7 | 1778 | ₹0.00 |
| Zee Delhi NCR Haryana | 1931 | ₹0.12 |
| Prarthana TV | 1795 | ₹2.36 |
| Tarang Music | 1786 | ₹2.36 |
| Alankar | 1763 | ₹4.72 |
| SIDHARTH BHAKTI | 1796 | ₹4.08 |
| Colors Oriya | 1752 | ₹7.08 |
| Star Kiran | 1759 | ₹14.16 |
| SIDHARTH TV | 1757 | ₹16.52 |
| Tarang TV | 1754 | ₹16.52 |
| Zee Sarthak | 1756 | ₹22.42 |
English Movies
| Channel Name | Channel No | Price |
| --- | --- | --- |
| Star Movies Select | 419 | ₹2.36 |
| MNX | 426 | ₹5.90 |
| Romedy Now | 429 | ₹5.90 |
| &prive HD | 431 | ₹7.08 |
| MN+ HD | 423 | ₹9.44 |
| MNX HD | 425 | ₹10.62 |
| Movies Now | 421 | ₹11.80 |
| Sony Pix | 407 | ₹11.80 |
| Movies Now HD | 420 | ₹14.16 |
| &flix | 413 | ₹17.70 |
| &flix HD | 412 | ₹22.42 |
| Star Movies | 403 | ₹22.42 |
| Sony Pix HD | 406 | ₹22.42 |
| Star Movies HD | 402 | ₹22.42 |
| Star Movies Select HD | 418 | ₹22.42 |
Gujarati Regional
| Channel Name | Channel No | Price |
| --- | --- | --- |
| ABP Asmita | 1728 | ₹0.00 |
| DD Girnar | 1739 | ₹0.00 |
| Gujarat Samachar TV | 1721 | ₹0.00 |
| GUJARAT FIRST 24X7 NEWS | 1735 | ₹0.00 |
| India News Gujarat | 1732 | ₹0.00 |
| Mantavya News | 1734 | ₹0.00 |
| News18 Gujarati | 1726 | ₹0.12 |
| Praveg | 1736 | ₹0.00 |
| Sandesh News | 1722 | ₹0.00 |
| TV9 Gujarati | 1720 | ₹0.00 |
| VTV News | 1729 | ₹0.00 |
| Zee 24 Kalak | 1731 | ₹0.12 |
| CNBC Bajaar | 1724 | ₹1.18 |
| Colors Gujarati Cinema | 1711 | ₹1.18 |
| Colors Gujarati | 1702 | ₹7.08 |
Music
| Channel Name | Channel No | Price |
| --- | --- | --- |
| 9X Jalwa | 830 | ₹0.00 |
| B4U Music | 822 | ₹0.00 |
| E24 | 813 | ₹0.00 |
| MTV Beats | 821 | ₹0.12 |
| Mastiii | 825 | ₹0.00 |
| 9XM | 809 | ₹0.00 |
| Showbox | 835 | ₹0.12 |
| Zing | 826 | ₹0.12 |
| Zoom | 811 | ₹0.59 |
| MTV Beats HD | 820 | ₹1.18 |
| Vh1 | 856 | ₹1.18 |
| Vh1 HD | 855 | ₹2.36 |
| MTV | 807 | ₹3.54 |
| MTV HD | 806 | ₹5.90 |
English Entertainment
| Channel Name | Channel No | Price |
| --- | --- | --- |
| Woman | 224 | ₹0.00 |
| Colors Infinity | 215 | ₹5.90 |
| Comedy Central | 219 | ₹5.90 |
| Colors Infinity HD | 214 | ₹10.62 |
| Comedy Central HD | 218 | ₹10.62 |
| Zee Cafe | 211 | ₹11.80 |
| Zee Cafe HD | 210 | ₹11.80 |
| Disney International HD | 221 | ₹16.52 |