GPF/ TPF Account Slip 2020-21 Download in Tamil Nadu
General Provident Fund (GPF) annual accounts statements and the opening balance as of the 1st April the total amount deposited and withdrawn during the year, amount of interest credited as on 31st March of the year, and the closing balance on that date, for the year 2020-21 of Government employees have been hosted on Accountant General's official website.
Statement of Teachers Provident Fund (TPF) for the year ended 2019-2020 Now available online. For candidates who want to download GPF account statements for the years 2019-2020, 2020-21 with help of GPF Account number, and Suffix (that's based on the department you worked in), DOB is must be needed.
Check related articles:
Transfer from CPS to GPF Account by Adjustment
Online GPF Account Slip in Tamil Nadu – http://agae.tn.nic.in/onlinegpf/
In the below steps we will clearly explain how to check GPF Account balance for the Year of 2020-2021 in Tamil Nadu. To follow the below steps users can be able to check their account slips for other years as well.
1. Visit Official Online GPF Website of Office of the Accountant General (A&E) – Tamil Nadu
Visit here – http://www.agae.tn.nic.in/onlinegpf/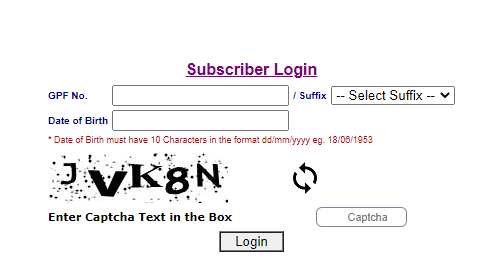 2. Now Enter your GPF No. and Your Suffix and Date of Birth Details in dd/mm/yyyy format, final step will be to enter the captcha and then Press the "Login" button.
3. Once you click the login button it will redirected to OTP verification page. So check your registered mobile number to receive the OTP Number.
After entering OTP click the "OK" button.
4. Then the dashboard will appear on the screen. Now choose "View Account Slips" in the sidebar then select the financial year (Ex: 2019-2020, 2020-21) press the View Account Slip button.

5. That's all. Now you successfully downloaded your complete GPF Annual Statement in Pdf for the selected year. Also, Candidates can be able to print the statement of copy with the Print Option which is available on the browser.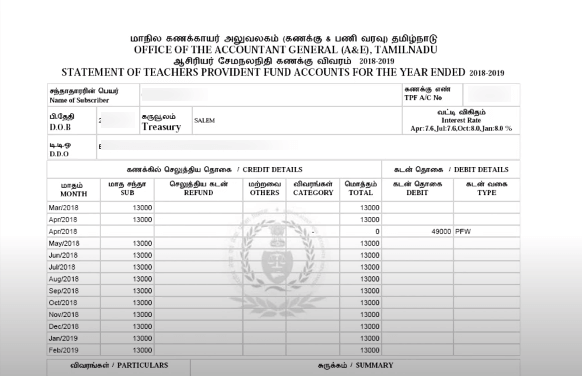 If you have any queries/feedback related GPF kindly submit it through the comments section our team ready to assist you at any time.