Patta Chitta: Check Status, Land Ownership (eservices.tn.gov.in)
To know your Patta Chitta Online Land Ownership Details through dedicated Online Portal @ https://eservices.tn.gov.in | Check Patta Online Status & Land Records Tamil Nadu.
Patta is a document from the Department of Revenue, which protects land ownership information, in the name of a land. In most cases, legal possession is considered the main document to establish.
Chitta is a revenue document that contains information on the extent of the land, its use and whose control it is. This will be provided by the Village Administrative Officer. If you have information on the crop (where the relevant survey number is located).
View Validity of Patta Online / A-Register Extract Records
Tamil Nadu Government provides dedicated portal to perform all land records related services through online to helps land owners go digitally. To view your respective land patta informations (நில உரிமை (பட்டா & புலப்படம் / சிட்டா/நகர நில அளவைப் பதிவேடு) விவரங்களை பார்வையிட) follow the below steps.
1. First of all Visit EServices website
2. Now Click > View Patta & FMB/Chitta/TSLR Extract to check your Land/Property details.
Now you will be redirected to Extract Page.

Select > District – choose your district name & Area Type (Rural or Urban). Then press the "Submit" button.
Then choose your Taluk & Village > Patta Number/Survey Number > Fill authentication Value. Then Press "Submit" button.
View A-Register Extract (அ-பதிவேடு விவரங்களை பார்வையிட)
Want to check your property A Register details follow the below steps. Basically a register required the your survey and sub division number of your land or property.
1. Visit A-Register Extract Page
2. And fill necessary details that are required to view A Register. (District, Taluk, Village, Survey Number, Sub Division Number and Press "Submit" Option.
Patta Chitta Online Status Tamilnadu
Candidates who want to know the status of your online Patta application.
1. Visit > Online Patta Application Status Page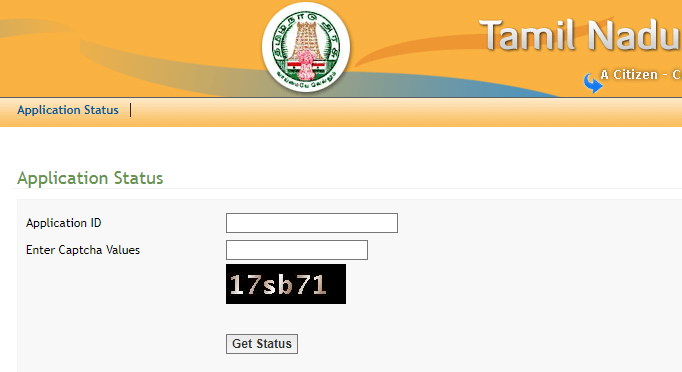 2. Now Enter the Application ID and Captcha Values click "Get Status" button.
Now your respective Application Status will be displayed in screen.
Online Patta Verification Process
Want to verify your web-based issued Chitta.
1.Visit: https://eservices.tn.gov.in/eservicesnew/land/verify_chitta.html?lan=en

Note: Keep your reference number to do this process.
Enter your reference number and press the "submit" button.